[vc_row][vc_column][vc_gallery type="nivo" interval="5″ images="4802″ img_size="full" onclick=""][/vc_column][/vc_row][vc_row][vc_column width="1/2″][vc_column_text]
Welcome to our little piece of paradise – we feel so blessed to call it home!

  We raise registered Nigerian dairy goats and Kunekune pigs on this 30 acre property, nestled in a small valley near the Siletz River. The valley floor is meadows, framed by steep hills covered in evergreen forests. We enjoy an incredibly peaceful setting with our large pond, complete with an island, as a focal point.  Wildlife often come for extended visits, thankfully mostly elk, deer, herons, and wild ducks and not many predators.  The Pacific Ocean is only seven miles to the west of our homestead which places us about 20 minutes northeast of the coastal town of Newport, Oregon.
As many of you know, my name is Anna and I am the primary animal caretaker here.  Cameron, my wonderful husband of over 30 years, is a great helper when asked but usually "leaves me to my goats – and pigs".  Of our three grown children, the youngest two, Tacoma (24) and Jostan (22) are attending Oregon State University but are helpful with projects and help maintain and improve the mini-ranch. Our daughter Shantelle has returned to the home place and is a full time helper with the animals and has a love of growing gardens, especially flowers.  We were blessed with a second precious daughter in April of 2020 when our son Tacoma married Jackie Shepard.
From your left to right in the photo below are:  Jostan, Shantelle, Cameron, Anna, Tacoma, and Jackie.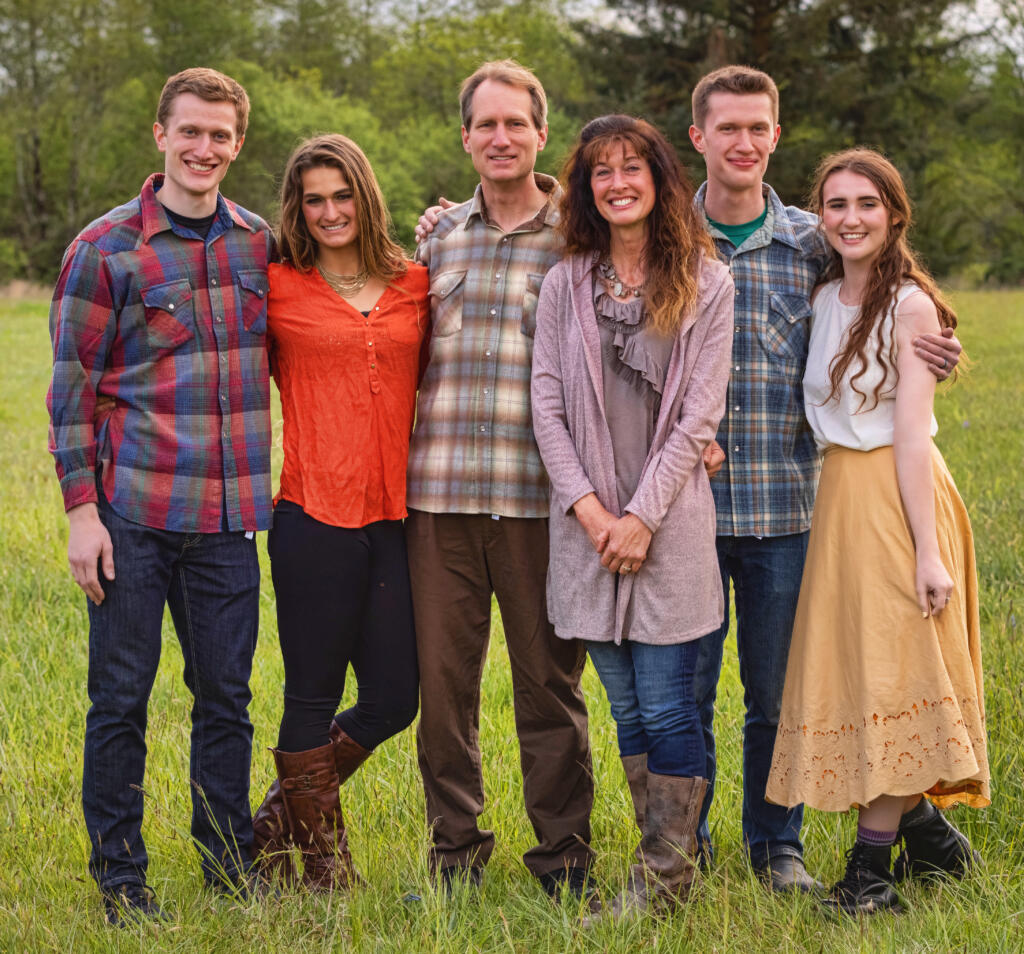 [/vc_column_text][/vc_column][vc_column width="1/2″][vc_column_text]Although I have a masters degree in animal science from Oregon State University and have worked in the livestock industry, I feel very blessed to be able to stay home and take care of my family and our little piece of paradise.  In addition to my passion for my family and animals, I enjoy growing beautiful flowers and vegetables, photography, and baking and cooking.  I try to put my relationship with God first in my life – but I am still working on that challenge.
I have been involved with dairy goats for almost 50 years and grew up drinking goat's milk. As a youth, I was involved in 4H for 10 years with almost every possible animal 4H project. Goats were always one of my favorites but when we started with Nigerians in 2000, I was smitten with this precious little breed.  My enchantment with KuneKune pigs struck me about six years ago. Until I found this gentle and super friendly breed, I was nervous around pigs and never thought I would own one, let alone have a breeding herd of them!
I try to limit the goat herd to 30 animals going into the winter and I have set my adult pig limit at six.  In the spring and summer months, we have a brief population explosion with many beautiful kids and piglets joining the family. We have been blessed to find wonderful new homes for about 45 goats annually and I sell about that same number of piglets.  In addition to the 30-ish Nigerians, our KuneKune pig count is currently at ten (plus 3-4 litters of piglets in the summer).  We are also home to seven Shetland sheep plus lots of lambs, 16 alpacas, a llama, five livestock guardian dogs/puppy, a dozen barnyard chickens, 20 tiny Serama chickens/chicks, two breeds of rabbits (10 total right now), 18 Muscovy ducks, two turkeys, five barn cats, four over sized Pomeranians and Shantelle's horse and Blue Heeler dog. Wow, what a list!    
I am striving to raise miniature dairy goats that are gentle, healthy, abundant milk producers, easy to hand milk, with correct dairy conformation that makes us proud in the show ring.  I also enjoy Nigerians' varied colors with blue eyes and polled traits being an added bonus.  With the KuneKunes, I am selecting for a combination of meat characteristics, strong feet and legs, cute faces with a short snout and wide set eyes, and of course the wonderful and gentle personality the breed is known for.  I am very pleased with the progress I have made in my breeding programs and look forward to continuing to help develop these amazing breeds.
Please take your time and enjoy the little piece of paradise that God blessed us with. You will see some beautiful animals that are given many hours of love and care each day. Thank you for visiting![/vc_column_text][/vc_column][/vc_row]