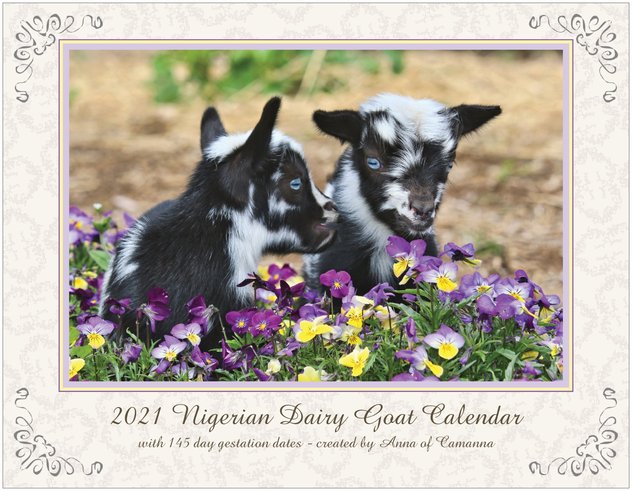 Calendar Information
Preorder yours for 2024!
Yes, I did make new calendars this year – the actual 2022 are different!  Once again, the Nigerian and Kunekune calendars both contain gestation dates and come in two sizes, the classic and the large sizes.  For measurements, see above.  Unfortunately, I was not able to make Muscovy duck calendars this year.  Next year I hope to add Valais Blacknose Sheep calendars to the list.  
The large calendars come in very heavy weight glossy premium paper and the classic sized calendars come on medium weight paper and are not glossy.  The calendars were created and printed through Snapfish this year so the backgrounds will be different than pictured above.
Sadly, the price of both printing and postage on the large sized calendars was higher than I expected.  For the less expensive and slower paced "Media Mail" shipping option, you can pay just $35 for a large calendar.  This is a good option if you live in the Pacific Northwest.  For faster delivery, I suggest you pay the $38 "First Class" price option, especially if you live on the other side of the US.      
If you would like to order via Paypal, please ensure that I receive the full payment amount on my end (if needed, add extra to cover any Paypal fees).  Thank you!   Please send your payment to my email address at:  camanna777@msn.com which is in my husband Cameron Brown's name.  If you pay via Paypal, I will quickly email you a confirmation of the calendar order. If you want an invoice through Paypal, it will cost a couple of dollars more to cover the Paypal service fees.  
In the "notes" section on the Paypal payment, please include:
1.)  Your name and mailing address (this is needed because it doesn't show up on my end when you pay me without an invoice)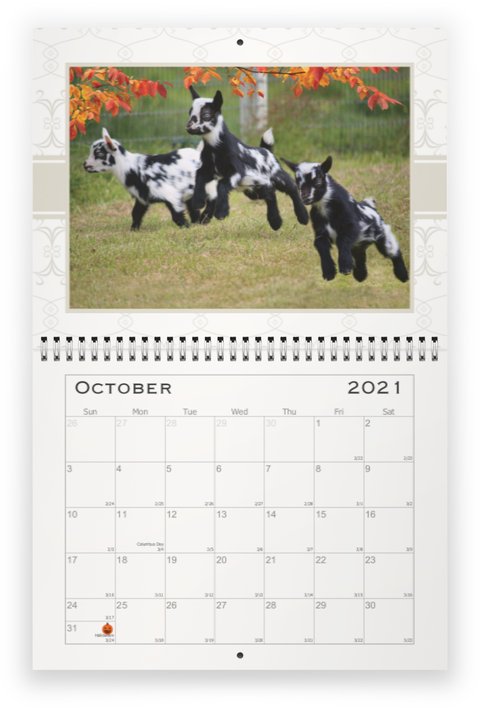 "Kunekune Pig Calendars" with 116 day gestation dates" $25 –  & $35 or $38. Prices include US shipping. Add $4 for Canada. The CLASSIC sized calendars are 11 wide by 8.5 inches when closed and open up to 11 by 17 inches long. The LARGE sized calendars are about 14.5 wide by 11.5 inches when closed and open up to about 14.5 by 23 inches long.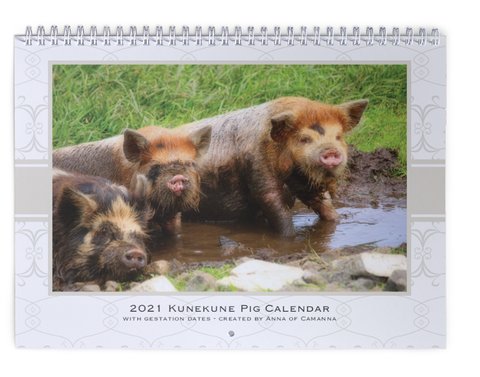 2.)  Species, size, and number of the calendars you want (example – 2 large goat)
3.)  Any special instructions
You are welcome to mail me a personal check (made out to my name) but your calendar will take longer to arrive.  My address for mailing a check is:  
Anna K. Brown 
2842 NE Old River Rd.
Siletz, OR 97380.
Please be sure to include your address, size, number, and what species for the calendar(s) in your envelope.  When sending a check, please send me an email so that I know to save the appropriate calendars for you and can watch for your check in the mail.  camanna777@msn.com .   
Shown above are examples of last years' Nigerian gestation date calendar and the Kunekune gestation date calendar covers and pages. Unfortunately, prices will be higher if I need to order more calendars because I won't have the "Cyber Monday" or batch printing discounts to pass on to you.  Please order this week for these prices – very limited supplies!  The calendar order should be here soon; I would like to be able to mail calendars out promptly so hopefully you receive yours by Christmas. 
Feel free to email me or FB message me if I don't answer your questions with this long post!  camanna777@msn.com .
Thank you so much for your order!  I love to create these useful calendars each year!  Have a very MERRY CHRISTMAS and a HAPPY NEW YEAR!  Praying for lots of blessings for each of you and your loved ones!  Anna K. Brown of Camanna's Petite Paradise, Siletz, OR